Royal Family of Elizabeth II
House of Windsor Family Tree
FAQs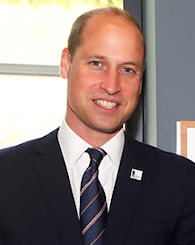 Title: Prince William of Wales, Duke of Cambridge
Full Name: William Arthur Philip Louis
Father: Prince Charles, Prince of Wales
Mother: Diana, Princess of Wales
Relation to Elizabeth II: Grandson
Born: June 21, 1982 at St Mary's Hospital, Paddington, London
Current Age:
Married: Catherine Middleton on April 29, 2011 at Westminster Abbey

Prince William was born on 21 June 1982 in St Mary's hospital Paddington, London, and is the eldest son of Prince Charles and Princess Diana. He was christened by the Archbishop of Canterbury at Buckingham Palace on 4 August 1982. His parents divorced in 1996 and his mother Princess Diana was killed in a car accident in 1997. He and his brother Harry had to endure intense media interest following the death and funeral of Diana. He attended primary and prep schools in London and then Ludgrove school in Berkshire, before going to Eton College from July 1995 where he studied Biology and History of Art at A level. He was a keen on swimming and football and was captain of his house team. During a gap year in 2000/2001 he visited Belize in S. America where he took part in an army training exercise, Chile where he worked on a dairy farm as a volunteer with Raleigh International, and 15 weeks studying conservation in Africa. On his return he entered the University of St Andrews in Scotland where he started on a degree in History of Art but later changed to Geography. He graduated in 2005 with a 2.1 degree in Geography.

In January 2006 he became an officer cadet at Royal Military Academy at Sandhurst joining his brother who had been there since May 2005. He passed out on 15 December 2006 at a parade attended by the Queen and the Prince of Wales and received a commission as 2nd Lieutenant in the Blues and Royals regiment. He trained at Bovington as a troop commander in an armoured reconnaissance unit, and in 2008 is completing attachments to the Royal Air Force and Royal Navy following in the footsteps of his father. In January 2009 he started training as a pilot of Sea King search and rescue helicopters, and from June 2010 to September 2013 he was an operational pilot at RAF Valley in North Wales which is one of the 6 UK based RAF Search and Rescue flights. In 2014 it was announced that he would train to take a Civilian pilots licence to become a full-time pilot in the East Anglian Air Ambulance service based near Cambridge. The Prince plans to donate his full salary (approximately £40,000 per year) to the Air Ambulance charity.

His interests include sport and he is president of England Football Association and Vice Royal Patron of the Welsh Rugby Union. He supports Aston Villa football club. As one of the world's most eligible bachelors, his relationship with his long-term girlfriend Catherine (Kate) Middleton whom he met at University in 2001 was closely followed by the media. Her family has a middle class background with no titled connections. Their 9 year relationship was the centre of considerable media attention and included threats of legal action over harassment from the press, a break up for a few months in 2007 and statements at the time that they were 'just good friends', however they were increasingly seen together at public events.

Prince William is reported to have asked her to marry him during a holiday in Kenya, and the engagement ring belonged to his late mother Diana. The engagement was announced on 16 November 2010, and they were married on 29 April 2011 in Westminster Abbey. Prince William and Catherine were made Duke and Duchess of Cambridge by the Queen on their marriage. They live in North Wales where Prince William is a serving helicopter pilot in the Royal Air Force. Their first official Royal Tour was to Canada in July 2011, and they toured Malaysia, Singapore, Solomon Islands, and Tuvalu as part of the Queen's Jubilee celebrations in 2012. He is second in line to the British throne after his father Charles, Prince of Wales. If he accedes to the throne after his father he will become King William V and his wife Queen Catherine. Their first child Prince George was born on 22 July 2013. On 8 September 2014 it was announced that they are expecting their second child who will be 4th in line to the throne.